It's common to see parents run into a store and leave their children in their cars. They promise to be in the store only for a few minutes. However, that's enough time for something fatal to happen to a child.
In this blog, the Law Office of David A. Breston will cover the Texas state legalities of leaving your child in a car, whether it's considered child neglect, and the consequences of leaving a child unattended. Parents or guardians seeking more information are welcome to contact our lawyers for a case review. 
Unattended Children in Vehicles Are Illegal in Texas
Texas Penal Code 22.10 states that a person cannot intentionally or knowingly leave a child in a vehicle for more than five minutes. Even if you plan on being in the store for one minute, it's recommended that someone 14 years or older supervise your child.
There are different types of charges that you can face for leaving your child unattended. Charges are usually classified as misdemeanors or felonies. You face less severe penalties when your charge is classified as a misdemeanor.
When your charge is classified as a felony, the penalties for your crime will be harsher. If you are charged with leaving your child unattended in a vehicle, you may also be accused of neglectful supervision.
Neglectful Supervision
Texas law defines neglectful supervision as placing a child in a situation where a reasonable person would realize additional judgment. It is also defined as any action beyond the child's mental capabilities or physical condition that results in the potential risk of immediate harm to the child.
Once you've been accused of neglectful supervision, Child Protective Services (CPS) may launch an investigation. If they find any evidence of child neglect, your child may be removed from your home. This is just the least serious of the consequences. You may sometimes be charged with a felony for leaving your child unattended in a vehicle.
Child Endangerment
Texas law defines child endangerment as intentionally and recklessly engaging in conduct that places a child younger than 15 in danger of death or bodily injury. There are many unfortunate situations where children left in vehicles have died from heat-related illnesses. Even if your child became ill after being left in the car, that might still be considered endangerment.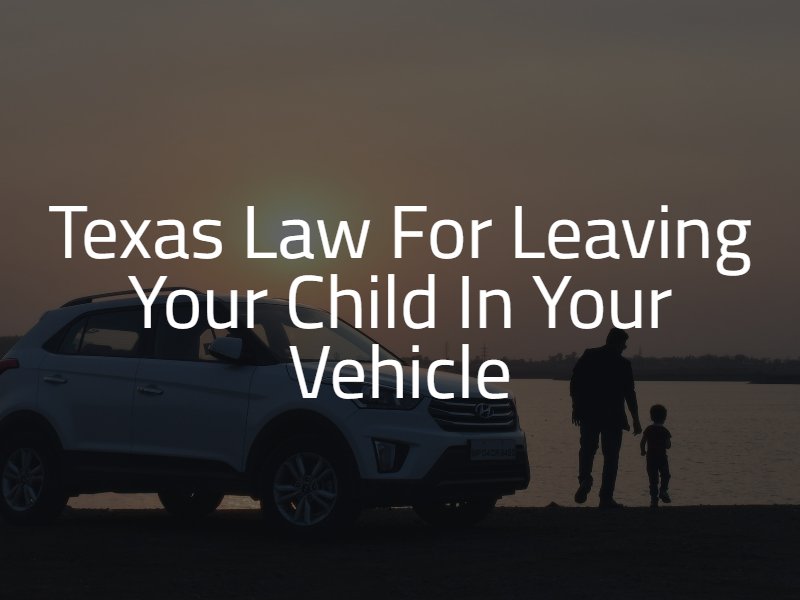 Texas Penalties for Leaving a Child in a Vehicle
The state of Texas advocates for serious caution when leaving children alone in cars, evident of their laws in place. In certain cases it's classified as a felony, and the penalties you face for child endangerment may depend on other circumstances. You may be charged with a state jail felony, which is a felony that results in jail time instead of prison time.
With a state jail felony, you may face 180 days and two years. You may also have to pay a fine of up to $10,000. Even worse, you may lose custody of your child. Your child may be put in the custody of CPS or another family member.
Do I Need a Defense Attorney for Child Neglect?
There is so much on the line when you are accused of child endangerment or neglectful supervision. You don't want to gamble with your family's future by failing to defend yourself. The Law Office of David A. Breston is a family business. We understand how important family is and provide the unique representation that your case needs. Call our office, or submit our contact form to request a free consultation if you've been accused of child endangerment.