Facing criminal charges in Baytown, Texas can be very intimidating, especially if you are unsure what the outcome will be. You may wonder what your future will hold, how you will move on from the aftermath of the charges, and how you can fight for the best possible outcome.
In these situations, you need an attorney on your side to advocate aggressively on your behalf. If you need representation in Baytown, look no further than the Law Offices of David A. Breston. With over 20 years of trial experience, our clients choose us due to our pool of resources, open communication, and significant knowledge of criminal defense strategies.
Our firm combines the resources of a large firm with the personalized attention and individualized services of a smaller one.
We strive to maintain an open line of communication with our clients from consultation to trial.
Our firm has represented over 4,000 clients in the Texas criminal justice system, including the Baytown court system. Our experience allows us to provide guidance each step of the way.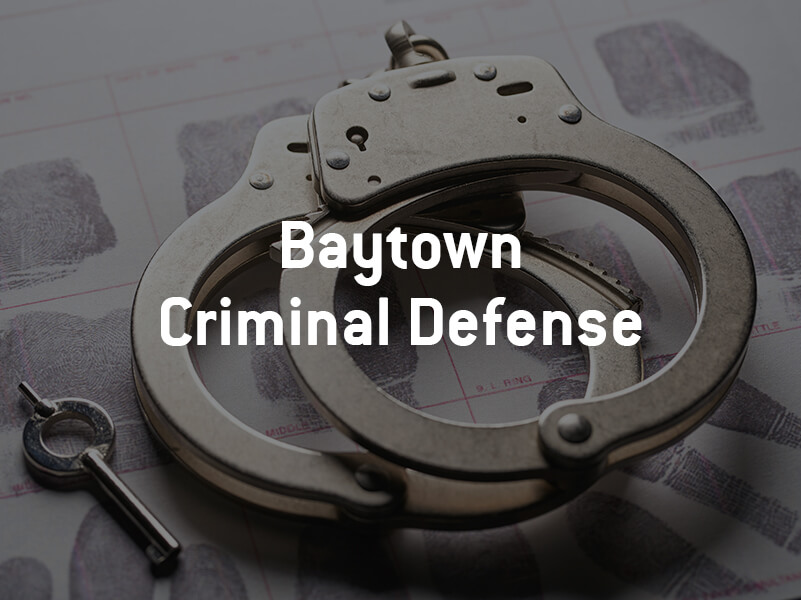 Common Crimes in Baytown, TX
In the state of Texas, the courts categorize crimes into two main types: felonies and misdemeanors. Misdemeanor charges are the less serious of the two, usually involving less than one year in prison or no prison time at all. Felony charges usually involve high amounts of damage, including significant theft, harm to another person, or death. Penalties are likely to include one year in prison or more.
The Law Offices of David A. Breston can represent you in cases involving some of the most common criminal charges in Baytown, including the following.
Driving while intoxicated charges, including commercial DWI, drugged driving, and offenses involving breathalyzers and DWI checkpoints
Sex crimes, such as child pornography, sexual assault, and indecent exposure
Drug crimes, including manufacturing, possession, and the intent to sell drugs
White-collar and business crimes, including fraud and insider trading
Violent crimes, such as assault and battery, domestic violence, and homicide
Various theft offenses, from petty theft, immigration, and shoplifting to burglary
Do You Need a Baytown Criminal Defense Attorney?
Whether this is your first time facing criminal charges or you have been in this situation in the past, you need a criminal defense attorney to guide you through the criminal justice process. This system can be overwhelming and you may not know how to best prepare for the next stage – and hiring an attorney from the Law Offices of David A. Breston can provide numerous benefits for your defense.
Your attorney will have a strong understanding of the Texas criminal justice system and will likely have experience working in the Baytown court system, He or she will guide through the system's complexities and help you prepare for each stage of the process, from arraignment to trial to plea agreement negotiations.
Since your attorney is likely to have experience working with cases similar to yours, he or she can help examine and advise you on your best possible options. In addition, your attorney will have the skills necessary to strategize a compelling defense in your favor.
Criminal charges can have a massive impact on your future. You need an attorney who has the experience and the drive necessary to protect your best interests and to advocate aggressively on your behalf. Depending on the facts of your case, your attorney can help you lessen your charges, negotiate a plea bargain, or possibly have the courts drop the charges against you.
Your attorney will also have access to a wide range of resources to help investigate your case, including evidence labs and expert witnesses.
When you choose the Law Offices of David A. Breston, Houston criminal attorney to represent you against criminal charges, you receive the guidance of an attorney during each step of your legal process. Our attorneys are familiar with the courts in Baytown, Texas, and the surrounding areas, and can help you prepare for important hearings and court dates.
Contact our offices today to schedule a free confidential consultation with one of our attorneys.