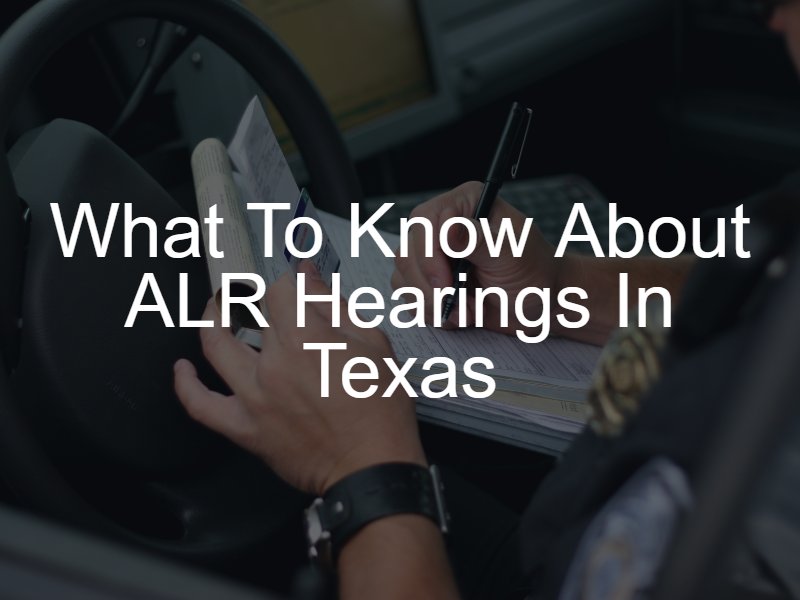 If a Texas driver commits a serious moving violation, a driving under the influence (DUI) offense, or any of the following traffic offense, the driver will face an Administrative License Revocation (ALR). Some of the possible reasons for an ALR include:
Failing a blood or breathalyzer test during a police stop. In such a case, the police officer will likely conduct an arrest for DUI. The officer will take the suspect's driver's license and issue a temporary 40-day driving permit.
Refusing to take a blood or breathalyzer test when the officer has probable cause to issue a chemical test. This will also result in the officer taking the suspect's driver's license and issuing a temporary 40-day permit.
A driver under the age of 21 attempting to buy alcohol. This may lead to a 30, 60, or 90-day license suspension.
A driver under the age of 21 possessing alcohol. This may also lead to a 30, 60, or 90-day license suspension.
Public intoxication. This is another offense that may lead to a 30, 60, or 90-day license suspension.
Conviction for a drug or substance offense, which will lead to a 180-day driver's license suspension.
After receiving an ALR, an individual has 15 days to challenge a pending license suspension and request a hearing.
How Does an ALR Hearing Work?
If a driver who received an ALR requests a hearing within the appropriate time, the Texas Department of Public Safety will send the driver an information packet containing the hearing date, time, and location. Drivers should note that it can take up to 120 days for a hearing request to make it through processing and scheduling.
A driver who successfully obtains an ALR hearing date should hire an experienced Houston criminal defense attorney to represent the driver's interests in the hearing. During an ALR hearing, the driver's attorney must provide evidence that the ALR is unsubstantiated or unjustified in some way. This could be due to the arresting officer's failure to establish probable cause before conducting the traffic stop or another procedural error.
What If I Lose at an ALR Hearing?
If an ALR hearing does not go the way a driver expected, and the license revocation stands, the driver has 30 days to request an appeal on the decision. The driver must complete and send an appeal petition by certified mail to the Department of Public Safety.
When a driver faces suspension, he or she may only have the driver's license reinstated after paying the necessary fees, waiting out the suspension period, and completing the required paperwork for the Department of Public Safety. A driver who received a DUI conviction may require the use of an ignition interlock device for a specified time after his or her license reinstatement.
These devices require a driver to blow into a breathalyzer device before the vehicle will start. If the device detects alcohol in the driver's breath, the device prevents the vehicle from starting and locks out the ignition system for a certain time. It's important for drivers who require interlock ignition devices to realize that these devices record and store data that may come into play in future legal proceedings.
Many Texas drivers rely upon their driver's licenses to get to and from work and complete everyday errands and tasks. When a suspension hits, it can be extremely stressful to navigate the ALR hearing and appeal processes without legal representation. Since there is a very short window in which a driver can apply for an ALR hearing, it's advisable for any driver who receives an ALR to secure legal representation as soon as possible.