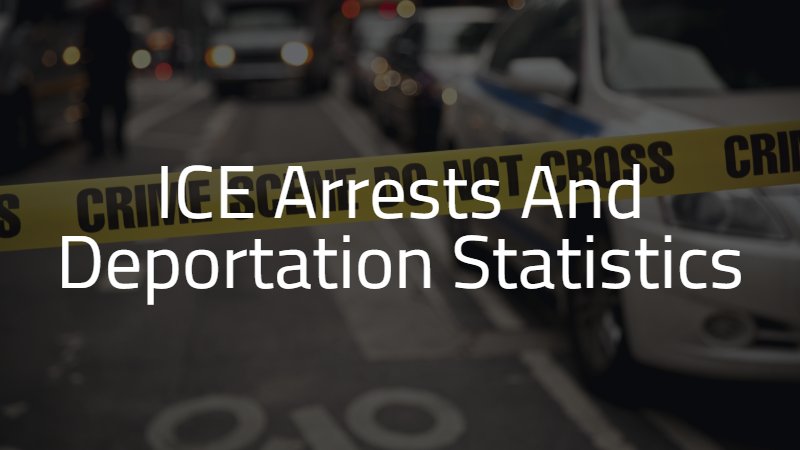 U.S. Immigration and Customs Enforcement (ICE) has been a topic of public debate recently due to the Trump administration's strict stance against illegal entry into the United States. ICE identifies and arrests illegal aliens who pose a danger to public safety or who have undermined the United States' immigration laws.
Executive Order 13,768, Enhancing Public Safety in the Interior of the United States, expanded ICE's jurisdiction and gave new instructions for the agency's focus. This new EO directs ICE to focus on illegal aliens that have been charged or convicted of criminal offenses, engaged in fraud or abuse of public benefits programs, and those who have not complied with their legal obligation to leave the United States.
If you are an immigrant seeking representation in Houston, call our Houston immigration lawyers today at the Law Offices of David A. Breston.
Decreasein Arrests For 2020
In the fiscal year 2021, ICE conducted 103,603 Enforcement and Removal Operations (ERO) arrests, a 28 percent decline from FY 2019.  ICE ERO enforcement activities resulted in 4,360 criminal arrests, 4,479 criminal charges, and 5,397 convictions.
Of the 185,884 removals during FY 2020, there was a 30 percent decrease from FY 2019. This decrease primarily resulted from a sharp decline in CBP apprehensions at the Southwest Border due to the use of authority under 42 U.S.C. §§ 265 and 268 to expel aliens from the United States to prevent the spread of COVID19. A majority of ICE ERO's removals – 92 percent – were people that had criminal convictions or pending criminal charges.
This highlights ICE ERO's commitment to removing those who pose the greatest risk to the safety and security of the United States. Of those that had criminal convictions or charges, the most commonly reported crimes include traffic violations for driving under the influence (DUI), dangerous drug offenses, immigration offenses, assault, and larceny. Despite the overall decrease in removals, ICE ERO assisted CBP with 17,000 air charter expulsions under Title 42, and also saw increases in removals to several countries that were previously uncooperative with removal efforts.
Those arrested in 2020 had criminal histories including:
1,800 homicide-related offenses
1,600 kidnappings
 3,800 robberies
37,000 assaults
10,000 sex crimes.
COVID-19 Impacts on Immigration Enforcement in FY 2020
In April 2020, ICE ERO released the COVID-19 Pandemic Response Requirements (PRR), this was a document developed in consultation with the CDC that sets forth specific requirements for all facilities. The PRR is regularly updated and available to the public.
ICE their detained population to 75% or below in all facilities and 70% or below in ICE dedicated facilities.
ICE ERO has tested more than 40,000 detainees and has initiated testing for all new intakes at 74 facilities nationwide.
Additional Information: Live Coronavirus Data
Where Are These Arrests Happening?
Due to the pandemic, ICE activity decreased throughout the United States over the past year. Hotspots for arrests include Dallas, Atlanta, and San Antonio. The Dallas area saw the highest number of arrests at 14,630, followed by the Atlanta area with 10,146 and the San Antonio area with 7,659. Baltimore and Buffalo reported one of the lowest numbers of arrests in 2021.
While ICE focuses on immigration violations, the agency is also one of the best defenses against illegal drug imports as well. In 2021, ICE's Homeland Security Investigations division announced that it was focusing its efforts on illegal drug imports, specifically fentanyl and other opioids that are spurring the ongoing opioid epidemic in the U.S.
Click here for more information on Immigration Law.