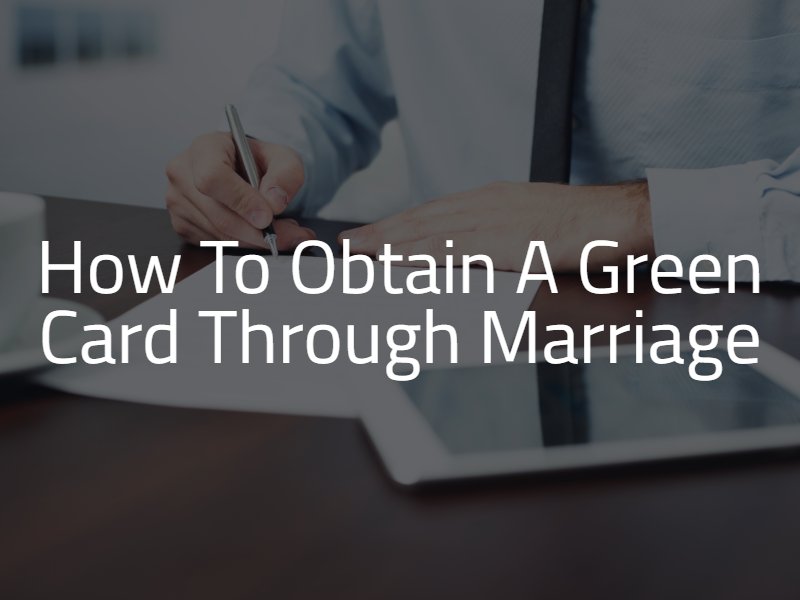 Though the process may take some time, it is possible for a spouse or future spouse to receive a green card and eventually live in the United States permanently. People must meet certain criteria to get a green card through marriage. For more information, contact a Houston green card lawyer.
For foreign citizens married to United States citizens or permanent residents, the U.S. government has available procedures to apply for a green card so that they may remain with their spouses. Depending on the circumstances, the exact guidelines for the application differ. Married couples have four different options for legally reuniting through the United States Citizenship and Immigration Services.
Green Card Marriage Through Marriage Application
The process of getting a green card through marriage is one of the quickest methods to obtain approval. The application process will certify the eligibility of both sponsor and beneficiary and determine that the union is legitimate, and not just a means for the spouse to gain permanent residency.
Different applications and guidelines can apply depending on the sponsor's status as a U.S. citizen or permanent resident. The spouse residing in another country or living in the U.S. with another visa type will also affect the application.
Green Card Through Marriage to a United States Citizen
These applications are part of the green card process for immediate relatives of U.S. citizens by filing USCIS form I-130, Petition for an Alien Relative. If the U.S. government approves the application, it will assign the beneficiary a visa number, enabling the spouse to apply for a Green Card or permanent residency.
For candidates already in the U.S. with another visa, the process will include a Change of Status Request. For those who live outside the U.S., applications should start at the U.S. Consulate with jurisdiction over the county of residence.
Green Card Through Marriage to a Permanent Resident
U.S. permanent residents can also apply for residency for their spouses. This process can take longer than for a U.S. citizen sponsor, as visa numbers are not automatically available. The Visa Bulletin of the U.S. State Department provides information on when visa numbers may be available, after which point the candidate can then submit their application.
Green Card Marriage and the K-1 Visa
A fiancé or fiancée of a U.S. citizen can apply for a K-1 visa, allowing entry to the U.S. for 90 days. The marriage can take place in this time frame. Once wed, the sponsor and recipient can then apply for change of status for permanent residency.
This method can involve more steps and cost than the others.
Eligibility for Adjustment of Status
Spouses currently in the U.S. and meet the criteria to be eligible for a green card:
Correctly file form I-485, Application to Register Permanent Residence or Adjust Status.
Pass inspection for admittance or parole into the U.S.
Physically present in U.S. when filing Form I-485.
Have an immigrant visa immediately available upon filing application.
The relationship between the spouse and the relative who filed Form I-130 still exists.
None of the applicable bars of adjustment apply to the recipient.
Admissible to the U.S. for lawful permanent residence or eligible for a waiver of inadmissibility or other form of relief.
Earn the favorable exercise of USCIS discretion.
What to Submit
The applicant must submit several forms, documentation, and evidence to apply for a Green Card, as listed by USCIS. However, several other forms may be applicable depending on the applicant's circumstance. Make sure you ask your attorney if you've filled out all the paperwork for your particular situation.
Various forms require filing fees. After submitting forms, the U.S. government also conducts interviews to determine eligibility. To ensure you are fully prepared, discuss your status with a Houston immigration attorney at the Law Offices of David A. Breston, we have experience with immigration and marriage issues.