Entering the criminal justice system in Deer Park can be daunting, especially if you do not have an attorney by your side to guide you through the process. However, it is your right to have legal representation for your criminal case – and you do not always want to rely on a court-appointed attorney. If you need a criminal defense lawyer in Deer Park, David A. Breston can help.
Determined To Get Your Case Dropped or Dismissed
Our attorneys have years of experience working with clients in Deer Park, Harris County, and across the state of Texas. Thanks to our dedication to our clients and knowledge of Texas criminal law, over 4,000 clients have trusted us to guide them through the justice system.
Our Deer Park defense attorneys have over 20 years of trial experience to help you navigate the courtroom process. We know how to approach your case and how to best prepare you for your trial.
We balance the personalized attention and approach of a small firm with the vast resources of a large firm. We know how to utilize our network and resources to benefit your case, and will maintain open and honest communication with you each step of the way.
Our attorneys have experience representing clients in a number of practice areas, including sex offenses, shoplifting and petty theft, and drug charges.
What to Do After an Arrest in Deer Park
The moment police officers place you under arrest can be very terrifying and disorienting. You may want to proclaim your innocence, argue, or fight back. However, taking these actions can impact your case very negatively. If you are facing an arrest in Deer Park, take these steps to stay safe and protect your case.
Do not fight the police officers, run away, or try to resist the arrest in any way. Comply with their orders and go with them to the police station. Fighting back can result in injury to you as well as additional charges for resisting arrest.
When police place you under arrest, they will read you your rights. Listen carefully to each right and remember them. One of the most important rights is your right to remain silent — the prosecution can use whatever you say against you in your future case. Do not speak to any investigators, police officers, or prosecutors without your lawyer present.
You also have the right to an attorney. As soon as you are able to, request to call the Law Office of David A. Breston and speak with your attorney. Your lawyer will help you navigate interrogations by police officers so that you do not accidentally harm your case, as well as discuss your legal options with you.
What Happens After You Get Arrested in Deer Park, TX?
After the law enforcement officers finish booking you and formally file charges against you, you will enter the Texas criminal justice system. Depending on the charges you are facing, you may have to enter a number of hearings, meetings, and trials to reach a verdict in your case.
First, you will attend an arraignment where a judge will read the charges you are facing to you and ask you to plea guilty or not guilty. Your attorney will advise you on the best approach to this plea. After, you and your attorney will work to build your defense, and you may enter negotiations for a plea agreement with the prosecution. If you are unable to reach an agreement, your case will go to trial.
During the trial, your Deer Park defense attorney will present your case in front of the judge and a jury, as well as the prosecution. The jury will then deliberate on whether you are guilty or not guilty, and will present a verdict to the courtroom at the conclusion of the trial.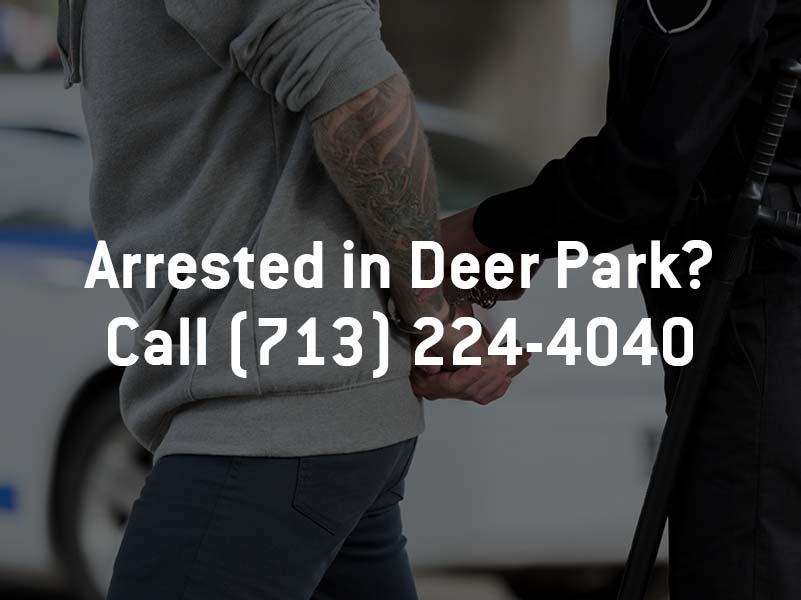 Schedule Your Free & Confidential Consultation Today
The moments after an arrest are the most crucial to preserving your case, and it is important to contact an attorney from the Law Office of David A. Breston as soon as possible. We will advise you on how to navigate interrogations and court dates and can help you understand your best legal options.
Contact us today to schedule your free confidential consultation at our offices in Houston.