When police officers place you under arrest, they must read you your rights – one of which is the right to legal representation. If you are facing criminal charges in La Porte, you want to choose a Texas defense attorney who is familiar with the Texas criminal justice system, who has represented clients in your practice area, and who understands the complexities of the courtroom. In these situations, look no further than the Law Office of David A. Breston.
Aggressive Legal Defense in La Porte, Texas
Our attorneys value client satisfaction and obtaining the best possible legal outcome, and will work closely with you from arraignment to trial to build your defense. Over the past 20 years, the Law Office of David A. Breston has served clients in LaPorte, Houston, and throughout the state of Texas.
Our firm combines the wealth of resources of a large firm with the attention to detail and personalized client experience of a small one. We will work closely with you to learn your side of the story and to determine what your needs are for your defense.
Without an attorney, you lose access to important resources that can help boost your defense. Our firm has a network of resources and experts we can consult to build your case, including evidence labs, reconstruction experts, and medical professionals.
We understand the complexities of the Texas criminal justice system, having represented over 4,000 clients since our firm opened. Your La Porte defense attorney will help you prepare for your important court dates and maintain an open line of communication to answer any questions you may have.
Common Types of Criminal Charges in LaPorte
In the state of Texas, criminal charges can either be felonies or misdemeanors. The difference between the two of these types of charges lies in the severity and the impact of the crime.
Felony charges are more severe than misdemeanors, often involving acts of violence, high amounts of stolen or destroyed property, or large amounts of illegal substances. With a felony, you are more likely to face jail time than a misdemeanor, and you may be subject to higher fines. Examples of felony crimes include murder, kidnapping, and aggravated assault.
Misdemeanors are less serious charges, and usually carry fines and administrative penalties. You may face jail time with a misdemeanor, but the sentence will most likely be shorter than what you would serve with a felony charge. Examples of misdemeanors include petty theft and drug possession in small amounts.
Do You Need a Criminal Defense Lawyer?
You may wonder if it is possible to enter the criminal justice process without an attorney on your side, or if you should opt for the court-appointed lawyer. While these options are available to you, hiring your own defense lawyer from the Law Office of David A. Breston can provide numerous benefits to your case that you may not receive otherwise.
Depending on the circumstances of your case, you may enter negotiations with the prosecution on your charges. These discussions require significant negotiation skills and knowledge of Texas law and the criminal justice system. Your attorney will have the training and background necessary to navigate these discussions.
Building a criminal defense is not an easy task, and requires knowledge of effective defense strategies, the Texas court system, and how to access important pieces of evidence and resources. Your attorney will have the experience and the resources to craft a compelling and creative defense on your behalf.
With a court-appointed attorney, you may not receive the personalized attention you need to build an effective case. By hiring your own lawyer, he or she will have the ability to place his or her focus on learning your story and understanding the charges against you. This personalized attention can result in a stronger, more unique defense than what would otherwise occur.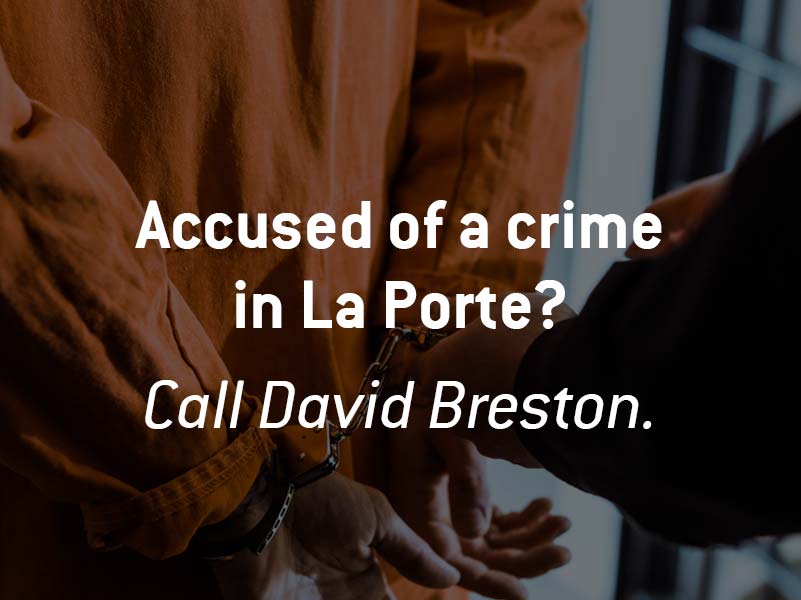 Call the Law Office of David A. Breston Today
If you need a criminal defense attorney for your LaPorte trial, the Law Office of David A. Breston can help. Thanks to our wealth of experience, network of resources, and familiarity with the Texas criminal justice system, our attorneys can work with you towards the best possible legal outcome.
Contact the Law Office of David A. Breston today to schedule a free consultation with one of our attorneys. Our offices are located in Houston, Texas.