If you are an employer who wants to bring a skilled immigrant into the United States for work, you may not know where to begin. When it comes to immigration law, timelines are long and rules are complex.
One mistake can lead to months of delays. By hiring a qualified Houston immigration lawyer to review documents and applications, you can save time and energy. Our Houston employment immigration attorneys know good help is hard to find, we can work with you to get your talented employees to work as soon as possible.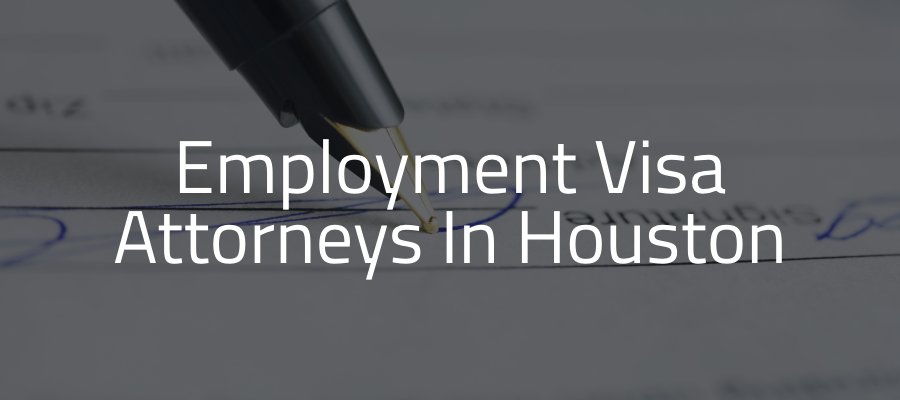 EMPLOYMENT VISA INFORMATION
GETTING AN EMPLOYMENT VISA IN HOUSTON
To get approved for an employment visa, the first step is to obtain labor certification approval through the U.S. Department of Labor. There are several types of labor certification available:
H Visas. A non-immigrant visa, H-Visas are available for immigrants who wish to live and work in the United States for a temporary period. The employer must file for the H Visa. Professional workers, nurses, trainees, and workers in "shortage occupations" are eligible. These are different from immigrant visas.
TN Visas. A part of the North American Free Trade Agreement (NAFTA), TN Visas are similar to H Visas but are available only to Mexican and Canadian workers.
L Visas. The L Visa permits high-level employees to transfer from a company outside the United States to one inside the United States wherein their skills will be demonstrably essential.
E Visas. E Visas are open to investors and traders who conduct essential business transactions or negotiations within the United States, or those who wish to oversee a business or development in which they have invested substantial capital.
Once you determine the kind of visa you are applying for and obtain labor certification, you will be required to file a petition to bring in an immigrant employee.
WHO IS ELIGIBLE FOR EMPLOYMENT-BASED IMMIGRATION IN HOUSTON?
Employment-based immigration visas are broken into 5 different categories. In order to be eligible for an immigrant visa, you must fall under any of the following categories:
First Preference (E1): persons with extraordinary ability, professors or researchers, multinational managers or executives
Second Preference (E2): persons with exceptional ability, professionals holding an advance degree
Third Preference (E3):  skilled workers, professionals, and unskilled workers
Fourth Preference (E4): certain special immigrants
Firth Preference (E5): immigrant investors
NEXT STEPS IN THE EMPLOYMENT VISA APPLICATION PROCESS
Once United States Citizenship and Immigration Services (USCIS) approves the petition, it will be sent to the National Visa Center where it is assigned a case number. When the priority date meets the qualifying date, your application process begins. Once the process begins, you must pay any applicable fees. The applicant must also submit all necessary documentation. This documentation can vary from case to case, but it may include medical records, civil documents (like birth/marriage certificates), and proof that you will not be a financial burden on the United States (like a work contract).
Once your application is fully processed, you will be required to complete an interview, usually at a consulate. At this time, you must receive vaccinations required by the United States.
WHAT TO DO ONCE YOU HAVE YOUR EMPLOYMENT VISA
Your employment visa will be given to you in a sealed envelope. It is important not to open this envelope, as it can only be opened by an immigration official when you enter the United States. Remember to enter the United States before the expiration date printed on your visa. If you elected to receive a Social Security Card, it should arrive at your designated U.S. address within six weeks.
HIRE A HOUSTON EMPLOYMENT-BASED IMMIGRATION LAWYER
If you are an employer, it can be hard to coordinate with your prospective employee internationally. That is why it is so important to have an employment immigration attorney work with both of you to ensure a smooth application process.
An experienced visa employment lawyer can handle labor certification on behalf of the employer, as well as all of the details required in the visa application for the employee. With the help of the Law Office of David A. Breston, you can get your valued employees to work quickly and efficiently. Contact us if you have any questions or would like to schedule a free initial consultation.