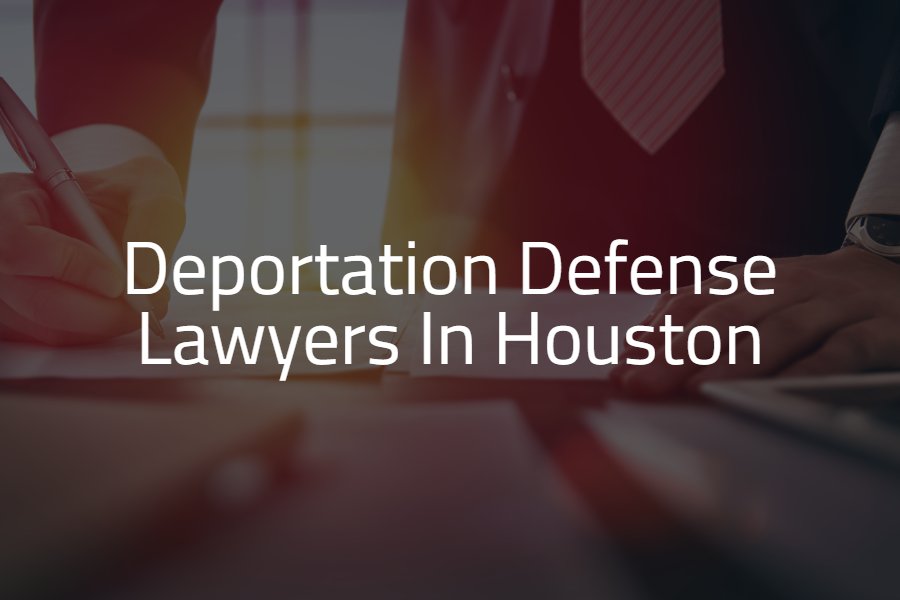 Have you or a loved one been detained by the U.S. Citizenship and Immigration Services (USCIS)? Have you been contacted by the USCIS without being told why? If you're facing deportation proceedings or fear that you may soon, it's essential to find capable, qualified legal assistance to put up a solid deportation defense. If the USCIS authorities have detained you or a loved one, you must act quickly to keep from being deported.
Don't go to your removal proceedings without the help of an experienced deportation defense attorney. At the Law Offices of David A. Breston, we provide knowledgeable legal defense on immigration cases in Houston. Once someone has been deported, it becomes very difficult to reverse it. Contact our law firm as soon as possible to prevent the removal. Se habla Español.
What Does it Take to Get Deported in Texas?
Immigration law governs how the detention and removal process occurs when foreign nationals enter the country without permission, break the rules of their visas, or overstay their visits. Legal immigrants in the United States have to obey certain rules to keep their status clean.
The rules are strict, but immigrants must follow them to stay in the country legally. One of these rules is that an immigrant must notify the U.S. Citizenship and Immigration Services (USCIS) of a change of address within 10 days of moving.
Another rule is that immigrants must keep crime-free records. A number of crimes are grounds to deport an immigrant, including:
Smuggling aliens into the country
Document fraud
Firearms trafficking
Money laundering
Fraud and espionage
Aggravated felonies
Terrorism
Even if a court conviction does not categorize a crime as one of moral turpitude or an aggravated felony, the Immigration Services can make its own decision about how to classify the crime. This can make some misdemeanors grounds for deportation. Once an immigrant is deportable, the USCIS can detain him or her. The immigrant in question can hire an attorney at this time. Once the USCIS deports an immigrant, it's very difficult to come back into the country.
Types of Deportation Defense in Texas
Depending on your individual circumstances and the reason the USCIS (formerly the INS) is trying to deport you, there are a number of different strategies available for deportation defense:
If you face deportation for a crime, we can challenge the criminal charges. If you are detained, we can request a bond to have you released. Depending on your criminal record, you may not be eligible for this.
Can I File for an Appeal?
Even if the judge orders deportation to your home country, you may be able to file an appeal. An appeal goes to the Board of Immigration Appeals (BIA), where officials look at your case objectively, without referencing your court hearing, and determine if the immigration judge should have decided differently. You have 30 days after your hearing to file an appeal. However, if you make a declaration in court that you have no plans to file an appeal, this waives your right to do so.
The BIA is the highest administrative court for applying immigration laws. Making an appeal to the BIA is not another court case; rather, the board members make a determination on your appeal by performing a paper review of your case. Your attorney will advise if you have a chance of securing an appeal and if this approach is your best course of action. For More Information Click Here: File for an appeal.
Our law firm will try to prove that the basis for removal is incorrect. Our goal is to prove that either the crime committed is not a deportable offense or that you have continuously resided in the U.S. for a specific number of years.
What is a Cancellation of Removal?
If this fails and the judge finds you removable, we may apply for a cancellation of removal – a 212(H) waiver or 212(C) waiver – for asylum, which is also called withholding of removal based on the Convention of Torture. Your attorney may be able to prove the judge's basis for removal is incorrect or unfounded, making you eligible for a withholding of removal. You may also qualify for an adjustment of status, asylum/refuge, or other relief from deportation. If not, consider requesting a voluntary departure.
Voluntary Departure vs. Deportation from the U.S.
A voluntary departure allows you to leave on your own terms, within limits. A voluntary departure means that the government will not automatically bar you from re-entering the United States at a later date. It allows you to avoid an order of removal on your record, improving your chances of reapplying for a green card or visa in the future.
You have the option to request a voluntary departure from the U.S. Department of Homeland Security before your hearing, during removal proceedings, or at the end of a hearing. The most likely scenario is to request this at the close of a hearing once you know that the courts have ordered deportation. Eligibility for voluntary departure is strict and has several requirements. You must:
Have been physically within the U.S. for at least one year prior to the Notice to Appear from the Department of Homeland Security
Be financially able to post bond within five days of the order from the judge
Show that you have exhibited good moral character for at least the last five years
Not be a terrorist or aggravated felon
Not have a previous voluntary departure grant
Carry a valid passport or travel document
Establish that you have the means to leave the U.S. at your own expense within the time limit
What to do if Your Request is Approved
If the judge grants your request for voluntary departure, Homeland Security will allow you to leave following your own arrangements by a specified time. After the judge accepts your request, you will receive an order specifying the date by which you must leave the country. Within five days of the order, you must post a voluntary departure bond in an amount the judge decides.
If you are not in an immigration jail when the judge orders deportation, you will have some time at home while the government makes arrangements for your departure. Always consult with an attorney before giving up and assuming a deportation order is final.
Contact a Houston Deportation Defense Lawyer Today
If the USCIS has detained you or a loved one without explaining why you need to act fast to attain a deportation defense attorney. Everyone has a right to legal defense in court, and an attorney can mean the difference between your deportation and your legal immigration into the United States. If you're facing deportation, the U.S. Department of Justice's Immigration Court will hear your case.
Regardless of which immigration attorney you use, it is in your best interest to talk with a qualified lawyer as quickly as possible. To learn more about your rights and options when you face being deported, contact deportation defense attorney David Breston today.
For additional information, please see our Deportation Frequently Asked Questions.