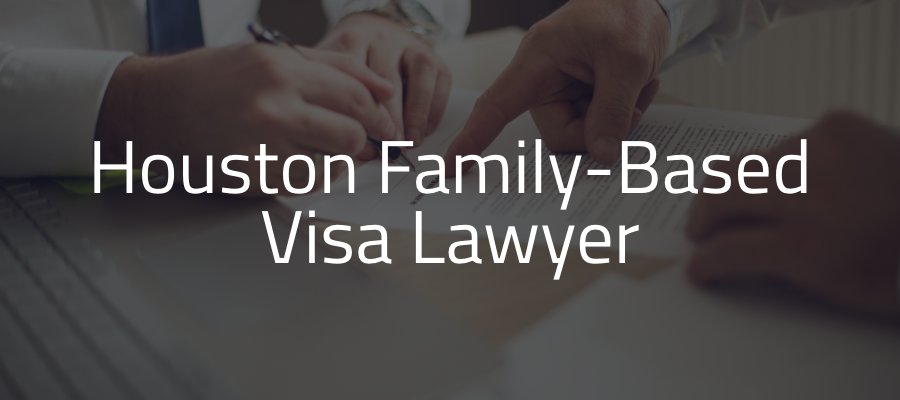 While bringing your fiancée, spouse, or child to the United States may be relatively straightforward, you may be surprised to learn that bringing your mother, father, sister, brother, or other family members to the U.S. is more complicated. An experienced  Houston family immigration lawyer can explain what you need to know about family immigration and what you can expect during the process.
For assistance in helping your parent, sibling or other family member come to live in the U.S., contact the Houston family immigration attorneys at the Law Office of David A. Breston today. We are dedicated to the unification of families through family immigration, and we can help you be reunited with your loved ones.
WHAT TO KNOW ABOUT FAMILY IMMIGRATION IN HOUSTON
THE PROCESS OF BRINGING YOUR FAMILY TO THE UNITED STATES
Houston family immigration attorney David Breston can help you file an immigrant petition for your family member and help ensure that it is filled out completely and accurately. Our firm will correspond with foreign consulates as appropriate. We will help set realistic expectations for when your loved one might receive an immigrant visa number and be allowed to move to the U.S.
Sadly, family immigration for a sibling or parent can take a long time – even years – mainly due to:
Family members who are not spouses are put into "preference categories" based on their relationship to you.
There are a limited number of visas for each preference category.
There are a limited number of visas available for each country for each year.
The waiting period is based on how many visas are available in your loved one's category.
I-130 – PETITION FOR ALIEN RELATIVES
First, your relative must file an I-130 for Alien Relative for you. This must be accompanied by proof of your relationship to the requesting relative. Your sponsor must file an Affidavit of Support to prove that they can support you at 125% above the mandated poverty line.
The relatives which may be sponsored as an immigrant vary depending on whether the sponsor is a U.S. Citizen or a lawful permanent resident. Citizens may petition for any of the following relatives to immigrate: spouse, unmarried child under the age of 21, unmarried son or daughter over the age of 21, married son or daughter of any age, brother or sister (sponsor must be 21 or older), or parent (sponsor must be 21 or older).
HOW LONG DOES IT TAKE TO OBTAIN A FAMILY VISA?
Permanent lawful residents may sponsor spouses and their own children only. At all times there must be proof of the relationship. For more information contact a Houston spouse visa attorney today.
Persons who are filing family petitions should realize and prepare for the fact that there is currently an extraordinarily long wait for family-based immigrant visas subject to strict caps under present law. The estimated wait times may be very discouraging but with comprehensive immigration reform pending, now may actually be the best time to file a family-based visa petition for two reasons.
First, it is likely that comprehensive reform will reduce the wait for petitions filed before the law changes; and
secondly, reform may eliminate some family-based visa categories entirely.
As always – we urge people to get proper legal support when pursuing any issue of immigration. Contact our office today and set up a free consultation to discuss your issue with our legal team.
Two Categories of Family-Based Visas
Family-based visas in the U.S. operate under two categories: limited and unlimited.
A limited visa, or family preference immigrant visa, is for specific and more distant family relationships with a U.S. citizen. The provisions of the United State immigration law state that a limited visa can apply to four different family preference categories depending on the relationship. An unlimited visa stems from a closer relationship with a U.S. citizen, such as a spouse or unmarried child. These citizens are "Immediate Relatives."
If the number of qualified applicants in your family exceeds the number of available immigrant visas, there is a wait. This means that the government will issue the available visas in chronological order based on when the immigrants filed the petitions. Sometimes, there may be a waiting period of several years or longer. An experienced attorney can help you navigate and change your priority dates, depending on your situation.
HOW TO APPLY FOR A FAMILY BASED VISA
The first step toward receiving a family-based visa is to file a Petition for Alien Relative, or Form I-130. An attorney can help you fill out this petition effectively to avoid the Department of Homeland Security or the U.S. Citizenship and Immigration Services (USCIS) rejecting your request. Sponsors for siblings or parents must be 21 years old or older, but there is no age requirement for sponsors of other family categories. However, a U.S. citizen must be at least 18 to sign the Affidavit of Support, which is a requirement for an immigrant visa.
Once the USCIS approves your petition, the organization sends it to the National Visa Center (NVC). The NVC assigns your petition a case number. If you have an attorney, you will not have to complete Form DS-261. Otherwise, the NVC will instruct you to file this form at this time. The NVC processes your case and gives you and your sponsor instructions to submit the required fees and immigrant visa documentation. This documentation includes application forms, the Affidavit of Support, and other civil documents.
Your spouse and minor, unmarried children may apply for immigrant visas based on your approved petition. Children must be younger than 21 to apply with you. Anyone applying for visas with you must fill out the required documentation separately from your own forms. The law now gives same-sex spouses and minor children the same rights and benefits as other couples.
Next, the NVC schedules your interview appointment. During the interview, the NVC agent will ask you specific questions about your relationship with your sponsor and other important information. If the interviewer suspects that you are trying to acquire a visa fraudulently, your application can be dismissed. You and your family members must complete medical examinations and vaccinations before attending the interview. Family-based visas can take longer than other visas to process due to numerically limited categories. The timeline varies case by case.
CONTACT FAMILY-BASED IMMIGRATION LAWYER TODAY
While your family member's application may be approved immediately, he or she still must wait for an immigrant visa number to become available. We will do everything we can to make sure this process is as smooth and as quick as it can be, by carefully completing forms and submitting them as soon as possible.
For experienced help in bringing your mother, father, brother, sister, or other family members to the United States, contact family immigration lawyer David A. Breston today.
For information on immigrant visa petitions and getting a visa number for your family member, visit the Department of State Web site on family immigration.
Client Review: 5/5
★ ★ ★ ★ ★
I hired David after trying through another attorney to get my wife immigrated to the USA. He had her here in 4 months because he knows the latest rules and steps for immigration. Do not be fooled, this process must be done properly amongst a constantly changing system. David and his staff knows the business of immigration.
-Roland R.
More Client Testimonials